¡Prepárate para llevar tu vuelo con el drone BETAFPV Cetus X FPV Kit! Esta avanzada opción de ExpressLRS 2S power whoop bundle te permitirá alcanzar un nivel superior. Con su sistema de propulsión mejorado, gafas VR03, controlador de transmisor LiteRadio 3, transmisión de radio y video de mayor duración, los pilotos podrán desbloquear logros aún mayores.
Además, el kit cuenta con el soporte de Betaflight Configurator, lo que permitirá a los principiantes aprender la configuración de los cuadricópteros a través de la versión Betaflight FC. Las gafas VR03 también cuentan con una función de grabación DVR, para que los pilotos puedan disfrutar de la reproducción guardada a través de las gafas o exportar los videos a través de una tarjeta Micro SD (no incluida).
El transmisor LiteRadio 3 cuenta con un diseño ergonómico, una palanca de larga duración y una batería interna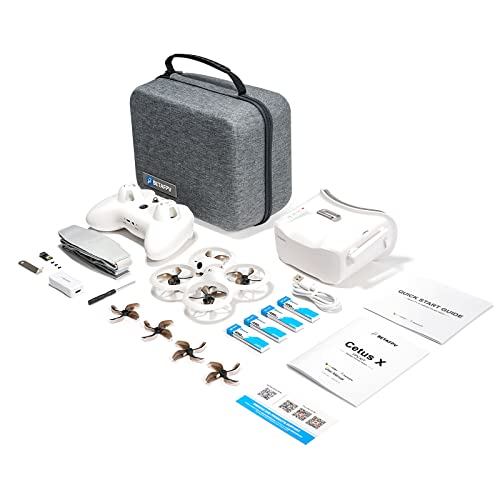 – 【Cetus X FPV Kit】BETAFPV Cetus X FPV Kit, as the advanced ExpressLRS 2S power whoop bundle, is a completely primary choice to reach a higher stage. Comes with an enhanced propulsion system, VR03 goggles, LiteRadio 3 radio transmitter controller, longer radio and video transmission, pilots can unlock more accomplishments to the next level
– 【Betaflight Supported】Flying a drone expertly is the first step to being a drone master and the next is to set up. With the support of the Betaflight configurator, beginners can learn quadcopter configuration through the Betaflight FC version
– 【VR03 Goggles】BETAFPV VR03 Goggles come with a DVR recording function. Pilots can enjoy the playback saved through the goggles or export the videos by Micro SD card (not included), supporting most Analog VTXs in the market. This exciting function allows pilots to catch the memorably breathtaking moment, greatly heightening the FPV flying experience
– 【LiteRadio 3 Transmitter】BETAFPV LiteRadio 3 features an ergonomically designed handle, a long service life gimbal, and a built-in 2000mAh battery to make it last up to 15 hours. Reserving a nano bay on the backside for external TX module for more choices. It is also available to play FPV simulators like DRL/DCL/Uncrashed/Liftoff.
– 【Package&Warranty】The quadcopter, radio transmitter, FPV goggles, and all of the accessories are packed in an EVA portable storage bag. It is convenient to carry outside and better to protect the equipment. Please verify that all components are included, without damage and with no deformation, all parts are fully charged before flying the kit. If not or No matter what is wrong with your BETAFPV items, BETAFPV guarantees to serve you!